The fourteenth issue of "Reformed News Asia" has been released by the Christian Literature Ministry (CLM) of our sister church in Singapore, the Covenant Evangelical Reformed Church. Once again you will find an issue filled with informative and edifying content (for information on the previous issue, #13, visit this page)!
One of the special resources made available in this issue is the daily devotions, which continue a series covering the Heidelberg Catechism (LDs 6-9 - see pdf attachment). Written by Rev.J.Kortering and Rev.G.Van Baren, these devotions on the "HC" take you through the month of February and into March (Feb.5 - March 4). You will find great spiritual profit in using these devotions day by day (By the way, you may also find these same HC devotionals on the PRC website.).
Some of the upcoming events (2015 Church camp and Chinese New year) as well as activities of the past are reported on too - with plenty of pictures, such as the annual church retreat and "open Sunday", where the church theme and plans for the year are introduced.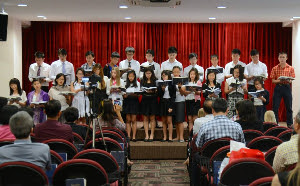 To watch and hear a couple of special numbers the young people recently sang for the "open Sunday" program, see these YouTube links: Psalter 268 and "How Deep the Father's Love For Us."
Be sure to check out all the details of "Reformed News Asia" by subscribing to this important newsletter from our Singapore sister.
For more information on these events, visit the "Stories from Singapore" blog of the Lannings - lots of additional pictures and descriptions, for example on the recent anniversary celebrations of the "Covenant Keeper" (CK) youth groups.